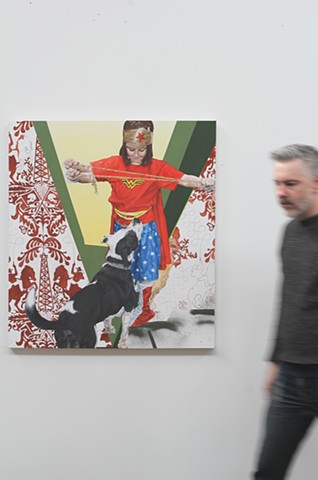 Current and Upcoming:
I will be having a solo show "Of Constant Concern", at The University of North Carolina at Charlotte, in the Upper Rowe Gallery, from March 26 - April 21st. It is such an honor to be asked to show at the school I graduated from.
Here's a write up (with tons 'o pics) on the Juxtapoz Magazine website on the "Favorite Things" show!
Included by Artist Jeremy Okai Davis for the exhibition "Favorite Things", curated for Stephanie Chefas Projects located in Portland, Oregon. The Show runs through September 5th, 2020.
QC Exclusive was amazing enough to have a feature article on me! Eleanor Merrell did such a nice job explaining my style! It's here QC Exclusive: Artist Nathaniel Lancaster Creates as He Erases, May 28, 2020
Chosen as one of forty-five Artists for the "Coined in the South" juried Exhibition at the Mint Museum in Uptown Charlotte, NC. The show runs from October 10th, 2019 - February 16th, 2020. Coined in the South
I'm really excited to announce I was selected to a residency this spring at Goodyear Arts! I will be there in April and May with a culminating show with Debora Koo and Elisa Sanchez opening June 1!
I was honored to be asked to participate in The Roderick Mackillop Alumni Art Exhibition 2018. Rod was one of the professors that had a large impact on my college career, and being asked back to show with other former students of his was so great.
Annnnd here's another from the fine ladies over at HappeningsCLT! I hope that you follow them because they are a fantastic resource here in the city of Charlotte! Carolina Art Crush
I have a new interview with the good people over at Figure50. They are really into this art thing btw.
I'll be exhibiting a new piece in "Currencies: Real and Imagined with the members of CORE at the McColl Center of Visual Art. It opens November 22nd and runs thru January 11, 2014
I've been selected to represent North Carolina in the first round of Figure 50, a national competition showcasing figurative art. It's here
There is a profile article in the October 9th, Charlotte Observer South Charlotte News section, talking about my recent and upcoming work, right here
"Sometimes" Solo Exhibition at the Cornelius Arts Center. Opening August 9th from 7-9 pm during the second Friday Cornelius Arts Crawl
"Spring Fling, Studio Party '13", April 13th, McColl Center For Visual Art, Charlotte NC
"Unnatural", Two Person show at Gallery Twenty-Two, opening Saturday April 6th, throughout the month of April
"Facets", Annual Group Show at Gallery Twenty-Two, through January 6th 2013
"10/20/2012 Art Show", at AKA Ceative, 316 Remount rd
"Filligree Fealties", Solo Exhibition in Pease Gallery, Central Piedmont Community College, through October 28th, 2012
"Word Up: The intersection of Text and Image", Group Exhibition at the North Carolina Museum of Art, through January 20, 2013